Tuesday seems to be coming around pretty fast these days!!! I don't mind though because this linky is so fun! Go now and check out
The Lowe Family News
,add your own phone pic link and check out what everyone else is picturing on their phones!
Jessica also has a fun new button that you can get if you participate and spread the love!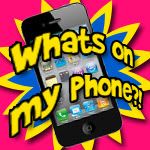 On with my week now! I guess I went a little over board with the pics this week. It may be an addiction and I might need help.
The girls needed new jeans and Target had a great sale last week. These are some of the ones we went home with and I just had to send my sis a pic!
We had the girls pictures made last Wednesday! *I can't wait to see them today! I had them go barefoot and this was the outcome. One huge splinter in Gibby's foot!
After digging that monstrosity out of Gibby's foot she decided it was her turn to capture some moments!
When I was at the school last week passing out Yankee Candle orders I noticed that Maddy's artwork was displayed in the hall. What proud momma wouldn't snap a picture of that?!
My friends and I are started a Bunco group and last Thursday night we got together for a fun dinner to find out what month we had to host! To spice it up a bit Liz added and auction. We were to bring unwanted items from home and auction them off to the highest bidder. *Liz gave us fake money to pay for our items! This is one of the things Julie B. came home with! I think that Daisy is a little creepy.
Gibby getting ready for school wearing her Oscar the grouch shirt. The shirt doesn't really suit her. She is as far from grouchy as they come!
Friday I had my first American Girl Doll Boutique experience. It was a little overwhelming and I didn't get any pics of that! However, I did snap a photo of the amazing Christmas Tree at the Galleria!
My awesome friend Margy treated herself to lash extensions (because us mommies deserve to do something for ourselves every now and then!) and they look so amazing! This pic was taken right after they were done so disregard the red eyes!
The girls are really into their music! Maddy and Brinley were probably singing to their iPods at this point.
Brinley finally lost her 3rd tooth. She's taking so long to get them out and her new ones are not coming in straight! Braces here we come. *Please don't pay attention to the messy bed head and breakfast on the face. Thanks!
Gibby had her 1st indoor soccer game on Saturday! I have to say that I prefer indoor soccer to outdoor.
Maddy decorated the fireplace with post its! What you can't see is that she drew a picture on each one.
I finally got all of my Christmas decorations out on Sunday! This is another addiction that I have. It seems to multiply every year and I LOVE it!
Yesterday I went and bought our tree. We didn't get it flocked this year like we normally do. Trying to stay on a budget is no fun. But I'm sure it will be great anyway! I do not have pics of that yet because its just sitting there right now. However, I did get this super cute tree for the girls and they love having their own tree!
Last night Aaron started a fire and the girls enjoyed some hot cocoa and popcorn will they watched the flames.
That's a wrap on the past week in phone pics! I hope that you enjoyed it and feel inspired to show us yours. If you do don't forget to link up
here
!