So I've been looking for a skirt to re purpose into something for my girls to wear. I can't take credit for the idea though. Have you checked out the Ruffles and Stuff Blog. If you haven't you should! Disney is fantastic at "rehabbing" old clothes and making fabulous jewelry. Anyway I found an old skirt that I got from Urban Outfitters a few years ago. It's to small now but I just couldn't part with it!
First I took it in on one side so that I could preserve the zipper that's on the other.
Then with the extra fabric ( I used the hemmed edge that was left over) I cut out my straps and attached them to the top!
This is how it turned out! I love it! The best part is it was super easy. Please disregard the polka dot pajama bottoms. Brin was not happy about modeling and I wasn't about to ask her to change pants.
There was even enough fabric left to make a sweet Barbie dress!
If you're interested in the tutorial that I used to make this please check out Ruffles and Stuff here http://www.rufflesandstuff.com/2009/10/tutorial-cheaters-guide-to-fancy-dress.html!
Or click on the button and then look at her tutorials!
I've linked up on

and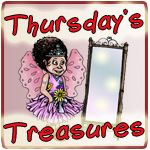 and
and
and
and
and
and
and